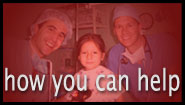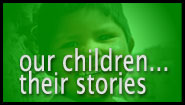 Changing Aracely's world
Aracely Melgar was six years old when HTC brought her to Toledo so that her heart defect could be treated. She had the normal and sad symptoms of her disease: weakness, difficulty in breathing, lack of energy.
Her physicians at St. Vincent Mercy
Medical Center were Dr. Samuel Durham and Dr. Edward Bove, cardio thoracic surgeons, Dr. William Suarez, pediatric cardiologist, and Dr. Beverly Scholler, pediatrician. The successful surgical procedure ensured that Aracely will live a longer and more normal life. She was stoic and brave while she was in the hospital, and back home, she bounced back immediately, running and playing as if nothing had ever happened to her.
Aracely's host family was Bill and Laura Rudolph and their children Abigail, Ben, Mark, Julia, Kelly, and Tommy. Before her surgery, Aracely needed special care because she was wheezing and appeared to be suffering from asthma. The Rudolph children pitched in and helped Laura administer her five daily nebulizer treatments. Aracely and
Kelly, age 8, played and competed like all girls their age, and Ben, 16, wrote a paper about Aracely for his theology class.
Aracely's mother wrote to the Rudolphs to thank them for caring for her: "Thank you for being a good mother for her during these months and giving her your love. I don't want my daughter to forget you and your family. You don't know how I thank you so much."