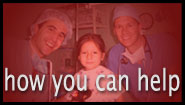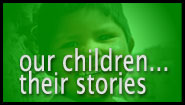 Devendra with the Beautiful Eyes
Devendra Ghamson, from Guyana, was born with bladder exstrophyóhis bladder was outside his body. You can imagine his misery, or try to. He came to Michigan for help when he was only 8 months old. His host parents were Scott and Laura Cassel of West Bloomfield.
Dr. John Park is the pediatric urologist who operated on Devendra at Mott Childrenís Hospital in Ann Arboróthree times. Devendra had two surgeries related to his bladder exstrophy and one for double hernias. Wait, thereís more (poor little guy) his condition also required hip surgery, performed by Dr. Frances Farmer, also in Ann Arbor.
And the nurses lo-o-ove me! Sometimes they let me come to the nursesí lounge with them!
Iím ready to go home with my escort, Patti Gonzalez.
Laura thinks Iíll be running Guyana, my home country, someday. She says Iím ďdetermined, sweet, and again, determined.Ē
. . . but the hospital is not all fun and games. Iíve been in this room for three weeks.
Smiling is one of my favorite things.
Oh, I am so glad to see Mom and Dad! Iím pretty sure they missed me. Love and smiles to everyone in Michigan who changed our lives!
My host mom and dad met me at the airport.
Itís better when my host mom is here.
Dr. Park is nice (he says that if heís having a bad day he just stops by to see me smile) . . .
We stopped at the airport in Miami, I batted my eyes at the restroom attendant, and she donated this to HTC on the spot.