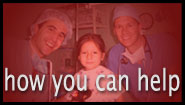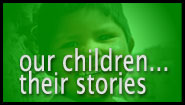 Domestic Program
Although by far most of our work is with children from other lands, when it is needed, we provide services to children living in Michigan and Ohio who fall through the cracks. These children are referred to HTC by schools, churches, and/or other state programs.
Here are some children that we have helped.
Ana Solis
The case of Ana Solis was unusual for Healing the Children, because she is a Mexican immigrant living in the United States. Ana, who was brought to our attention by the Van Buren school district, was born without a right forearm. We asked the generous people at Wright & Filippis, expert makers of prosthetics, to address the problem. They created a useful new forearm for Ana, who will use muscles in her back to operate the clamp that stands in for a hand. After a few moments of practice she was able to hold a pen with it and then write her name! Brushing her hair and tying her shoes (but not washing dishes) are two more everyday tasks that Ana now looks forward to mastering, and we thank Wright & Filippis for helping us make that possible.
Yinka
In certain situations, HTC uses its resources to assist children here in the United States. Adeyinka Ifaturoti's story is an example of a "domestic assist."
In 2004, when Adeyinka was 12, his father and mother, Joseph and Toyin, and his brothers and sister immigrated to Michigan from Nigeria. While at school in Nigeria, Adeyinka had been accidentally poked in the eye with the point of a mathematical compass. A pharmacist had given him some eye drops, but no doctor had seen the injury. A traumatic cataract developed, and Adeyinka had almost no vision in the eye. When he arrived here in Michigan, HTC was asked to help the family, since they had no car and no health insurance. Steve and Nancy Van Noord, an experienced host family, agreed to drive Adeyinka to his medical appointments as well as help mentor the family through the process and orient them to their new life in Michigan.
Dr. Patrick Droste performed surgery on Yinka's eye
at DeVos Children's Hospital in Grand Rapids to
remove the cataract and insert a lens that would
restore his vision, but after two days the lens was
displaced. Dr. Alan Margherio removed the lens
surgically, and when the eye healed, Dr. Robert
Peters fitted Yinka for a contact lens. He is building
up to wearing the lens full time, and with it his vision
is 20/20.
The family is so grateful to HTC and all the doctors
and staff who helped Yinka get to this point. He is a sophomore at East Kentwood High School and is on the honor roll. He hopes to be a doctor someday.