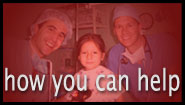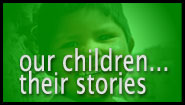 "Evelyn is a sweet and lovable little
charmer who can also pitch a tantrum
to get her own way," says Christy
Maniscalco. "She was fairly intimidated
for about one day, but then she developed
strong bonds to our family. She likes to tease and be teased, and her sense of humor is delightful. In our house she answered to the name 'Tiny Girl.'
"Because I am a nurse and because of her continued medical needs, with kidney damage and poor kidney function, I was given the opportunity to escort Evelyn home so that I could teach her parents how to care for her. They invited me to stay in their very humble home, and I saw their great love for and commitment to their daughter. That made it easier for me to say goodbye to this little person our family had come to love."
And there is more…
Changing Evelyn's Life—and Julie's, Too
Seventh-grader Julie Maniscalco
wrote a wonderful essay about Evelyn
for a school assignment. Here are
some excerpts.
On November 4, my mom and dad went
to the airport in Detroit to meet Evelyn.
I had to go to dance lessons and youth
group, so I did not get to go with them or
even see her awake. That night I went
into my room, where she was staying,
and found her asleep in the little youth
that Evelyn's problems could not be dealt with on site. She needed extended treatment and additional specialists.
A Lansing-area host family was found—Jon and Christy Maniscalco and their six children—and Evelyn was seen at Sparrow. Her personal medical team eventually included Dr. Bartkowski, Dr. Mary Clark, an orthopedic surgeon, Dr. Pinhas Geva, a nephrologist, Dr. Douglas Henry, an endocrinologist, Dr. Joel Greenberg, a pediatrician, and Dr. Stephen Guertin, a pediatric intensivist.
In December, Evelyn underwent a very long surgery, during which Dr. Clark reconstructed her pelvis and Dr. Bartkowski repositioned her bladder. Although her deformity has caused permanent damage to her kidneys, her treatment and surgical repair have made it possible for Evelyn to receive proper medical care in Guatemala. And because her visible deformity has been corrected, she will not be ridiculed or ostracized as she grows up.
Changing Evelyn's World
Evelyn Quinonez-Cojolon, of Guatemala, was two-and-a-half when Healing the Children brought her to Michigan, but she looked like a one-year-old. Her medical condition had slowed her growth and sapped her strength—in addition to being inconvenient, uncomfortable, and unsightly.
Evelyn was born with covered vesical extrophy, which means her bladder was outside her body. She came to HTC's attention during one of our Guatemala medical trips. Dr. Donald Bartkowski, a pediatric urologist at MSU who is on staff at Lansing's Sparrow Hospital, leads our Guatemala Urology teams, and he and his colleagues saw
bed we had put there for her. She was so tiny she only took up about one third of the toddler bed. She had beautiful dark brown hair and the softest tan skin. Her hands were so delicate and tiny. She looked too tiny to be two-and-a-half years old. She looked like a little baby angel lying there.
Evelyn did many funny things while she was staying with our family. When you looked at her and said, "Evelyn!" she would stick out her bottom lip and roll her eyes. She would imitate almost anything, including words, making faces and funny expressions, even when she did not understand what they meant. Evelyn began learning English very rapidly. By the time she got ready to return to Guatemala, she spoke mostly English. We all found her English very entertaining, and she loved to show it off.
Four months after she came to stay with our family, it was time for Evelyn to go home. Her doctors had done all they could do to get her ready for her life back home. I tried to spend as much time with her as I could so that she might remember me, but it did not seem like enough.
The first couple of weeks she was with us I did not want to become too close with her emotionally because I knew I would be upset when she left. I ended up falling love with her anyway because she was the cutest thing. I just could not stay away from her.
A couple of days before she left, it did not seem real.
Just thinking of her going home and how much I
would miss her made me want to cry. The fact that
she did not realize she was leaving, the thought of
not being able to see her in the morning when I
woke up, and not being able to play with her or see
her funny imitations killed me inside. Then I
remembered how much of a difference we had made
in her life by giving her a better chance at life.
I realized I had affected someone so much just by
caring for her. I also realized how hard it must
have been for her parents to let their tiny girl come
to stay with strangers for all this time. I'm sure they
cried as they missed her too.
My mom and Evelyn headed off to Guatemala the day after I left for seventh-grade camp. That morning, I went up to where Evelyn was sleeping and gave her a hug. She woke up, saw me, and smiled. I said bye to her and told her that I loved her. I gave her a hug and a kiss. In her soft little voice she said, "A-bye . . . I love you!" She did not realize it was the last time we'd see each other.
When I am older, I want to get involved with Healing the Children, because it was so awesome to see the outcome of our experience with Evelyn. I hope and pray that she will find her way back to visit us when she's older. I hope we have another little HTC kid to stay with us. I'll probably fall in love with that kid, too.