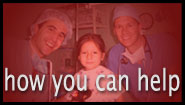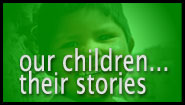 Changing Freddy's world
Fredy Cuatro, age seven, of El Salvador, came to us with an ailing heart. He suffered from tetralogy of fallot, a defect that had to be corrected in order for him to live a normal life of normal length. He was very weak, and by the time he arrived in Grand Rapids he weighed only 41 pounds and even found it difficult to stand up.
Dr. Rodolfo Neirotti operated on him at DeVos Children's Hospital, and the procedure was a success. As a result, Fredy's energy level increased dramatically, and, best of all, he was able to run and play like a standard-issue seven-year-old boy.
Doug and Melinda Wieringa and their children, of Hudsonville, were Fredy's host family. "I was surprised at how much we had to carry him," Melinda says. "He enjoyed it; it was so much easier on his heart. "
After his surgery Fredy recovered speedily--"It was fun and funny to watch a seven-year-old run for the first time," Melinda says-- and soon his cardiologist, Dr. Kim Lee, gave him the okay to go home. That very night, he came to Melinda, saying, "Mama, me ouch!" and pointing to his mouth. An examination revealed a large sore spot, indicating an abcessed tooth. It was the Thursday night of a holiday weekend, but after several phone calls, Melinda was able to get an appointment with Dr. James P. Hoekwater for the next morning. At Dr. Hoekwater's office, x-rays showed that Fredy needed to have two teeth pulled. Finally, a week later, Fredy really did make it to the airport, board the plane, and fly home to El Salvador.
"Many thanks to all who touched the life of Fredy," says Melinda, "and also 'thank you' from his family. Fredy had 25 people waiting for him at the airport! It was a great day in the Cuatro family."