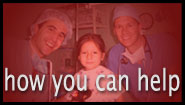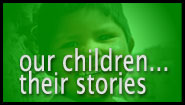 Heartwarmers
Special things that happen when people are touched by the stories of our Healing the Children kids. We hope you enjoy these heartwarmers as much as we do.
We Feel the Love!
Shortly after our most recent newsletter came out in December, we received a
call from a Kalamazoo organization called Crayons4Kids. The person on the
other end had seen the newsletter and wanted to know whether we could use
some crayons in any of our projects.
The answer was yes! And so Crayons4Kids is donating all the crayons we
could ever want for our next medical trip to Honduras. We'll also send a
bunch to St. Kitts.
We love it when other groups trying to do good things in the world recognize
our work and needs. Crayons4Kids began in 2001, "with an idea to cheer
up the children in hospital beds across America." Matt, 10, and Emily, 11,
Leinwand are the CEOs of Crayons4Kids, and their dad, Dr. Michael Leinwand, is treating one of our HTC kids who came to us from Honduras and is staying with a host family in Kalamazoo.
So far, Matt and Emily's organization has donated 112,140 new crayons, 7,004 new coloring books, 904 new baby rattles, and 2,464 new games and toys. Wow!
Thanks so much! We're grateful for this wonderful gift.
Visit their website www.crayons4kids.org
Grandville Community Education
In the giving spirit of the holidays, the 60 four and five-year-olds from the Grandville Community Education Pre-School at the South Elementary building did jobs at their homes during the month of December and raised $383.98 for Healing the Children.
The parents fully supported this activity as it took the focus off of the kids buying presents for each other or spending the money on themselves. They were able to think of helping others. Their teachers are Mrs. Jan Swainston and Mrs. Barb Rozga.
Rowan's Gifts
It's a well-known fact when someone sees the work of Healing the Children close up, they want to become part of it Even children are not immune. Rowan Luther, age 9, has proved that point.
Rowan has had up-close and even personal experience with Healing the Children because she is the granddaughter of Helen Salan, Executive Director of HTC/MI-OH. She's had the chance to meet several HTC kids, and she considers Mamou Bagayoko, the severely burned West African girl we profiled in last year's holiday issue as "Mamou the Magnificent," a good friend. One of their favorite shared experiences was a fun dip in Lake Michigan.
Many parents of fourth graders would need a short respite to recover their composure if their child said to them, "Mom, Dad, I don't want any presents at my birthday party this year. Let's have people donate to Healing the Children instead." Well, Rowan did that—twice. (Her parents have recovered.) Last year, donations from her party guests were used to help bring a Vietnamese girl to Michigan for surgery on her cleft lip and palate. This year, Rowan invited her whole fourth-grade class to her party and politely asked for contributions that will enable HTC to treat a Haitian baby who has a severe intestinal disorder.
Happy belated birthday, Rowan! You've shown that you know all about giving, and it's a treat to tell your story in this giving season.
Ruben's Surprise
When veteran host sister (four HTC kids, some more than once) Lindsay Schonveld married Jon Brink this summer, her family surprised her by flying her HTC brother Ruben de los Santos, now 17, up from the Dominican Republic to not only attend the wedding, but to be in the wedding party. Equally delightful: at their reception, Lindsay and Jon placed cards on the tables stating that instead of providing favors for their guests, they would make a donation to HTC. They did, and we're delighted! Congratulations, and many thanks.