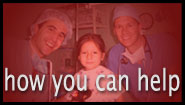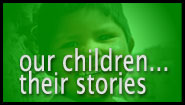 Kawthir, age 7, had life-threatening heart defects. She and her mother, Fatima, traveled to Michigan for treatment at Mott Children's Hospital in Ann Arbor. John and Tammy Houle of Grass Lake, their host family, had cared for 13 HTC kids before Kawthir, but this time the language and cultural barriers made them wonder how it would all work. Not to worry. "It was amazing to me how so many people came to assist us," Tami says. "A wonderful Iraqi woman from Farmington Hills and an Arabic translator from U of M hospital agreed to meet us at the airport and return home with
us to help us all become comfortable. " Kawthir and Fatima quickly became part of
our family; everyone in our house appreciated having another mother around!
Dr. Richard Ohye, pediatric heart surgeon, did the procedure that gave Kawthir a heart
that functions normally; Dr. Caren Goldberg was her cardiologist. All went well, and
Kawthir's mother brought a very healthy girl back to Iraq.
From Iraq, with Love
We've brought five children from Iraq to Michigan and Ohio for medical treatment this year. Think about it.
If that short sentence balloons into a mass of phone calls and faxes and emails and organizations and contacts—and soldiers—you've got it almost right.
Those are the logistics. Here is the heart.
You probably didn't know that our military supports an organization called the Iraqi Assistance Center in Baghdad, where Iraqi doctors and coalition forces operate a clearinghouse for Iraqi children who need medical treatment that cannot be had in that country, especially now. Children are referred by their own doctors, their families, or American soldiers, who bring them in from all parts of the country.
The IAC arranges for the children to travel from Baghdad to Kuwait City and another organization likely unfamiliar to most of us, the Humanitarian Operations Center. Our military, again, supports this center, as does the Kuwaiti government. The HOC obtains passports and visas, works on travel arrangements with HTC and other charitable groups, and drives the children and their escorts (when children come to us from war-torn countries, we allow a parent or close relative to accompany them) to the Kuwait City Airport to board a plane for the long trip to the U.S.
Then HTC and the volunteering hospitals, medical specialists, and host families take over, and the healing journey continues.
There are many remarkable aspects to this process, but one in particular is worth more than a moment's thought: soldiers of the most powerful army on earth—men and women in the uniform of our country, maybe even someone you know--use their time and resources to bring hurting Iraqi children to the people who can make them well. It's hard to think of a more profound and nearly imponderable gift. Leaving the imponderable aside, we simply offer them our loving thanks.
Here's our Iraqi guest list.
Hadile, age 7, also had a severe heart defect. She and her mother, Sundus, stayed in Chelsea with host family Charlie and Jill Taylor, and Hadile's surgery was done by Dr. Ohye, with Dr. Sarah Gelehrter as her cardiologist.
Hadile's mother knew when Hadile was less than a year old that she needed medical attention. In Saddam Hussein's Iraq, insurmountable barriers kept her from getting it. Even after Hadile and Sundus received approval for their trip to Michigan, a dangerous, anxiety-filled journey from their home to Kuwait lay between them
and the doctors who were waiting to help Hadile. (Because of this U of M staff
raised enough money to send Hadile and Sundus directly to Baghdad on their
return trip.)
Fawzi, the U of M translator who assisted the Houles, was equally helpful to the
Taylors. "He also became part of our new family, with Hadil and Sundus, and our
friend," says Jill. She adds, "In the end, all of us love our children and would go to
extremes for them. I feel blessed to have
had the opportunity to be included in the
life of one more family."
Hadile, healthy and strong, and her
mother returned to Iraq this summer.
Salwa was 4 years old when she and her mother, Muntaha, came to Grand Rapids for surgery on a large hole in her heart defect. The procedure took place at DeVos Children's Hospital and was performed by Dr. Neal Hillman. Her cardiologist was Dr. Ronald Grifka, and her pediatrician was Dr. Richard Switzer.
Salwa's and Muntaha's host family were HTC veterans Al and Ruth DeKock of Grandville. Ruth says, "Salwa's surgery went well, and she was back at our home in two days. While she recovered and waited for clearance to return to Iraq, we were able to make some memories of America. Both Salwa and Muntaha enjoyed sitting on our deck and walking in our neighborhood. A ride to Lake Michigan was also a favorite. We are thankful we had the opportunity to host this family, not only to improve Salwa's quality of life but also to enjoy some Iraqi cooking and learn more about Iraqi culture and life."
Baneen, age 2, suffered with the severe burn scars she received when a fuel tank near where she was playing burst into flame. Accompanied by her aunt, Zainab, she came to the U.S. for treatment at Shriners Burns Hospital in Cincinnati. There, Dr. Richard Kagan prescribed intensive therapies which began in the hospital and which Zainab learned to do so that she can teach the procedures to Baneen's mother.
Saleem and Karii Jeelani of Batavia served as host family for Baneen and Zainab, who returned to Iraq after four months in Ohio.
Hamza, age 5 1/2, and his mother, Bushra, are our current guests. He will be treated for his heart defect at DeVos Children's Hospital. Dr. Neal Hillman is his surgeon, and Dr. Ronald Grifka is his cardiologist. First, though, oral surgeon Dr. Jeffrey Paul Brooks will do extensive dental work on Hamza so that there will be no risk of infection after his heart surgery.
Hamza and Bushra are staying with host family Rich and Sue Sanderson of Comstock Park.