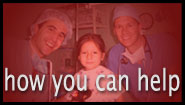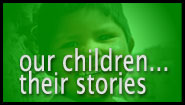 Changing Javisha's world
Isn't it wonderful when things get off to a good start? That's how it happened for Javisha Carey, of St. Kitts, and the Rivera family, Steve and Michelle and their children Nicholas and Nicole, of Grosse Pointe Shores.
When Nicholas, age 4, learned that Javisha, also 4, would be staying with his family, he decided to write her a letter with help from Michelle. Along with his good wishes, he included a photo of himself and Nicole, age 3. A few weeks later, the Riveras went to the airport to meet Javisha. Michelle says, "Because of security measures, I was the only person allowed to go to the gate. Javisha was very timid when I introduced myself, and she remained quiet and reserved as I pushed her wheelchair down the corridor. Then she saw Nicholas and Nicole. She jumped out of the chair and ran as fast as her bowed legs would carry her, yelling, 'NICHOLAS!!! NICOLA!!!!' The three of them immediately grabbed hands and began to dance in a circle, singing 'Ring-around-a-rosy….' Later that day Nicholas said to me, 'You know, Mom we all come from different parts of the world and we all come from different families. But we all sing the same songs and have the same hearts.' I knew then that becoming a host family was a great decision."
Javisha's legs were deformed due to Blount disease, a progressive condition that caused them to bow out at an increasingly dramatic angle. At Children's Hospital in Detroit, Dr. James Mooney broke the tibia and fibula in both Javisha's legs, realigned them, and placed metal bars along her shins to stabilize the healing bone. Michelle says, "When the fixators were removed Javisha stood in front of a full-length mirror, staring at herself in disbelief. She twirled, jumped, and sang while watching her legs work. She said, "Look at my BEAUTIFUL legs! Can I go rollerblading now?"
The answer to this question—(see photo below)—is proof positive that in addition to a good start, Javisha's story had a very happy ending!