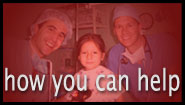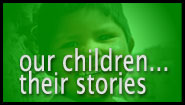 Changing Jose's world
Jose Perez, age 5, came to us from the Dominican Republic. He suffered from
a serious heart defect and was very sick when he arrived. His cardiologist was Dr.
Kim Lee, and his surgeon was Dr. Rodolfo Neirotti, who operated on him at DeVos
Children's Hospital in Grand Rapids, with excellent results. Jose's host family was
Bob and Carole Pettijohn of Grandville and their children. When Jose was ready to
return home, Carole wrote a letter for him to take to his family. Here is a portion of it.
"Love and greetings to all of you. It is difficult for us to be sending Jose back to you,
because we are going to be missing him so much. He has a place in our family and
in our hearts.
"When Jose arrived he was so sick. He was tired all the time. We were very worried about him, and we were eager to see the doctors and find out how soon he could have surgery. Jose tired out quickly, and when we first took him to have his oxygen levels checked he was at 62 percent saturation, dangerously low. He needed help and needed it quickly.
"Our family prayed for Jose daily and wrapped him in as much love as we could provide. Our children helped with his care by carrying him whenever he got tired out. Jose went to school for a few hours each day, and he really enjoyed that. He was able to make some friends, and he had a very good time. Sometimes if he got
"I want to tell you a bit about the week of his surgery. We went to the hospital on Wednesday so that Jose could have a heart catheterization. The doctors decided to keep Jose at the hospital that night to prepare him for surgery the next day. The procedure on Thursday took a long time, but it was very successful. Dr. Neirotti was wonderful. Thursday night was hard, because Jose was in a lot of pain, but he slowly began to recover, and by Saturday he could even get out of bed. The nurses were very caring, and I know he was never afraid, even with so many unfamiliar things going on around him.
"Now I want to tell you a bit about our family, because you will be hearing about us from Jose. We love being involved with Healing the Children. Jose is the eighth child we have hosted, and we think this program has truly blessed our family. Our son Aaron and his wife Leah live close to us, and they really got to know and love Jose.
Our daughter Jillian, who is 21, did most of the daytime care for Jose. She loved spending time with him. Stuart is 19, and this summer he had a busy life and job. He and his friends had fun teaching Jose to fish. Dixon is a Healing the Children child who has been with us for six years because he continually needs to have surgery on esophageal papillomas. He sees his family in Honduras every year. Dixon is 11, and he was Jose's best friend, big brother, and Spanish interpreter. He will miss Jose very much. In the photo we're sending you'll see another Healing the Children child, Thavaun. He's from Jamaica, and he and Jose and Dixon had fun visiting the zoo together.
"Thanks to the surgery and all of the prayers offered for him, Jose is returning to you as a wonderfully happy boy filled with energy. He has a long life expectancy. The last time he visited the doctor he had gained five pounds, and his oxygen saturation level was 99 percent. What a wonderful story of healing!
"We hope that someday we may be able to meet your family in person, but if
not, be assured that we will always feel connected to Jose in love, and to you as well.
(Thavaun Bailey, age 6, suffered from nasal tumors. Dr. Rick Smith removed his
tumors and repaired his nose at Ingham County General Hospital in Lansing. His
pediatrician was Dr. Duane Cook, and his host family was Randy and Twyla
VanderLugt and their children, of Grandville.)
tired, he would just fall asleep, even while all the other children were playing. He loved music time the best and was always busy humming and singing some of the Dominican songs you taught him. I was amazed at how happy he always seemed to be. My favorite time was in the morning. As he was having breakfast, I would offer him a banana, and he would sing a little banana song to me. What joy he spread to everyone!