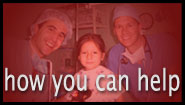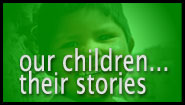 These Feet Are Made for Walking--At Last!
When you see the "before" pictures of her severely clubbed feet you can't believe Priya
Permaul, age 14, of Guyana, was able to walk, but she was. She walked slowly and painfully--
and of course she could not wear shoes--but she walked.Unfortunately, Priya's physical
suffering was compounded by the spiritual pain inflicted by the merciless teasing she
endured at the hands of other children.
She needed our help. Missionary Andy Girwarnauth asked his sister Lita Kharmai, who
lives in Rockford, to find a doctor for Priya, but Lita called on us for help.
Dr. Timothy Hulst, podiatrist and foot surgeon, is the doctor who accepted the challenge of
repairing her deformed feet. He performed four surgeries on Priya at St. Mary's Mercy
Medical Center in Grand Rapids. The first two, on her right foot, turned the foot over and straightened the ankle and then straightened the front of the foot so that shoes would fit. The third and fourth surgeries did the same on her left foot. Dr. Esmerelda Cardena was Priya's pediatrician.
As we've noted, Priya could walk before--barely. Now she could walk--REALLY. On two straight feet. With no teasing.
Priya's host family was Jim and Cheryl Buist of Grand Rapids. Cheryl Buist says, "When
Priya was wheeled down the corridor at the Kent Count airport she had a big smile on her
face. That smile continued until the day she went home, 15 months later. Her success story
is not only about fixing her feet, it's about how she grew as a person while she was here.
"Priya did not attend school in Guyana. She was teased so much that her parents let her stay home. She knew a few math facts but did not know how to read. Here, she spent the school year in Mrs. Konynenbelt's fifth grade classroom at West Side Christian School. Miss Autsema was her aide, and Priya was alone with her part of the day, working on reading, spelling, and math skills. They returned to the classroom for science, Bible, and social studies. Priya knew what arms, legs, and a head were, but had never heard of things like the brain, lungs, muscles, bones; science class was a revelation! She also learned many new things about our world. Concepts like continents, countries, oceans, islands, and even war were all new to her. She loved Bible stories and memorized many verses. The students at West Side readily embraced Priya and loved to help her. They carried her
things, pushed her in her wheelchair,
and encouraged her to walk when her feet began
healing. They prayed for her during her surgeries.
To be socially accepted despite her handicap
was a joy for Priya. The blessings she received
from her school experience were wonderful!
"By the time Priya went home she could walk without help. Her feet were straight and she wore shoes with small lifts in the heels. She returned to Guyana not only with straight feet but with new knowledge about her world and her faith. It was a joy for our family to see her develop into a beautiful young lady."
Jim and Cheryl visited Priya in Guyana last April and report that she is doing very well. To reach her school she must make her way down a long path, and she makes this walk slowly but comfortably. "She also has a bright future," Cheryl says, "because she is no longer seen as 'handicapped.'"