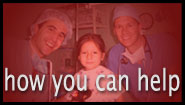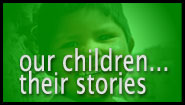 Changing Ronald's World
Ronald Ramos, age seven, also came to Healing the Children from El Salvador, and also suffered from tetralogy of fallot. In addition, the placement of all his organs, including his heart, was reversed. Like Fredy and most other little heart patients, he was tired, weak, thin, and short of breath.
Dr. Rodolfo Neirotti was his surgeon, and performed his surgery at DeVos Children's Hospital. Although the surgery was challenging because of the reversed position of
Fredy's organs, it was completely successful. "Now he is so active," says host mom Linda Meadows. "He runs, jumps, dances, and always wants to be active. Before the surgery he was content to color, draw, read, and play quietly."
Linda and her husband Joe and their children Megan and Jonathan, of Grand Rapids, enjoyed Ronald's stay in their home. "He is delightful," Linda says. "He's cute and small, with a quick smile. He's friendly and fun, and he's kind-hearted, too. He loves animals, especially our dog, because he has two dogs and a cat back in El Salvador that he misses a lot.
"Ronald and our son Jonathan are very close. After surgery, Ronald was proud of the fact that he was getting bigger and stronger. Every day Jonathan would weigh Ronald, and both of them loved to see the number heading upward. They're going to miss each other a lot."