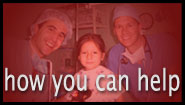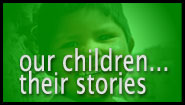 Changing Sarah's world
Bladder exstrophy is one of the most burdensome conditions one could imagine for a child, and a family. When the bladder is outside instead of inside the body, the problem of simply being clean is overwhelming. Infection is a constant threat. Life is unpleasant in the extreme.
This is what Bharti (Sarah) Dyalsingh had endured for the first two years of her life in her native country of Guyana. Last year Healing the Children brought her to Ann Arbor and Mott Children's Hospital for help.
Pediatric urologist Dr. John M. Park operated on Sarah, planning to remove her bladder and route her urine through her colon. But when he began the surgery he saw that he could actually save the bladder and place it inside her body. Dr. Fran Farley, an orthopedic surgeon, also participated in the procedure, because Sarah's hip bones had to be broken and her pelvis moved together and pinned. The surgeons were able to create a vagina and a belly button for Sarah and make her look normal. If her bladder grows with her, she will eventually have normal function. How marvelously different her life became on that day!
Sarah's host family was Matt and Leigh Hook and their children Hunter, Jillianne, Graham, and Joy, who had also hosted Esmeralda Leger. "Sarah was a small brown girl with large brown eyes," Leigh says. "She had a mass of curly black hair, and she was beautiful, with a wonderful smile."
When Sarah arrived she was quiet and withdrawn; the Hooks speculated that she had
usually been carried at home, because she did not want to walk on her own. Then came the surgery and its aftermath of six weeks of immobility combined with pins that needed to be cleaned and catheters that had to be changed. The Hook children, though, loved Sarah from the start and waited on her with great devotion while she convalesced.
"After her surgery Sarah came alive and became the bossiest member of our family," Leigh says. "She would walk around opening cupboards in the kitchen and say, 'Just checking, Mom.' When we were in the car doing errands she'd ask to go to McDonald's for chicken nuggets, and if I said no would ask, 'Why, Mom, why?' At home she never, I mean never stopped talking, and she absorbed everything like a sponge. Her favorite game was to tell me, 'I'm Jillianne today, Mom, not Sarah.'
"When she went home we all cried. The children still talk about her and say how sad they are that she had to go home, but they know how happy and excited her parents were to see her."
"Sarah will have to come back so that
her doctors can check her bladder
and make sure it's growing. We can't
wait to see her again."
Sarah also received much-needed
dental care from Dr. Ray Maturo,
who pulled four rotten teeth and
capped two of her molars.