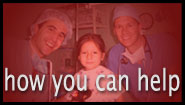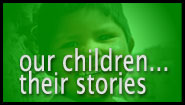 Valeria the Miracle Baby
"Valeria Macias Silva came to us one late night in July. When they handed her to me, I was extremely overwhelmed. Here was a 13-month-old baby, weighing only ten pounds. Her breathing was labored, and she was as limp as a newborn baby. She was burning up with a fever. As the escort was explaining to us how she had been having seizures the last few days, I wondered how she even survived the travel, let alone the last 13 months of her life."
That's how Valeria's life-saving visit to Michigan began, in the words of host mom Deborah Craig. There's more.
"The doctors at Mott Children's
Hospital kept shaking their heads and
saying,'You know there's a good chance
she's not going to pull through this.' But at
the same time they were telling me that, I
was seeing a little spark of fight in her
shine through, so I kept saying, 'She's
made it this far, and she traveled all the
way from El Salvador to get here, so
she'll be fine.'
"She did pull through the ear infection and pneumonia she was diagnosed with that day, and she did pull through her open-heart surgery a week later. She also pulled through her cleft palate and lip repair a month after that. She discovered she loved peanut butter toast, she learned how to sit by herself, and we called her our miracle baby. She went home weighing a whopping 16 pounds.
"Shortly before she left it was also discovered that Valeria was severely hearing impaired. At first I was crushed at the news. How could one little baby have been dealt so much? But as days went by I realized I shouldn't feel sorry for her. She is so smart and so brave and so happy that she will keep on fighting her battles, and she will win!"
Dan and Deborah Craig were Valeria's host family, and their daughter Lisa was a wonderful helper. Her doctors were Dr. Richard Ohye, pediatric cardiac surgeon; Dr. Steve Kasten, plastic surgeon; Dr. Frances Farley, orthopedic surgeon; Dr. Penny Baumier, pediatrician. All her surgeries took place at Mott Children's Hospital in Ann Arbor.